At the Heart of Lewisham's Community and Heritage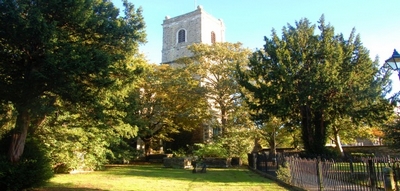 The ancient parish church of St. Mary the Virgin is Lewisham's oldest standing building. For over 1000 years St Mary's has stood at the heart of this local community, near the site of the holy well of Our Lady, giving the place name of Ladywell.
St. Mary's has celebrated Christian worship, with the people of Lewisham through joys and sorrows, conflicts and peace. The church building has always hosted many community activities and events through the seasons. We are the Civic Church of the Borough, proud of our place at the heart of Lewisham's heritage and culture.
In 2018 we are celebrating 1100 years since a Royal Charter 918AD, in which Alfred the Great's youngest daughter Elfrida (or Aelfthryth) gifted Lewisham to the Benedictine Abbey of St. Peter in Ghent (Belgium). This means over 1100 years of Christian Worship from Saxon times to the present day – all focused on St. Mary's.
St. Mary's today is looking forward to many more years of worship and service to this community, exploring new ways of interpreting and celebrating Lewisham's ancient and more recent heritage — over moo years of change from rural farmland with prominent rivers, mills and water meadows to the thriving and diverse London Borough it is today.
Visit us today! We are an inclusive church, open for everyone!

Father Steve Hall, Vicar and the Churchwardens and The Mothers' Union.